Four Important Things: Absentee Voting in Fairfax County
Your absentee ballot is counted on election night and your vote is included with the reported results.
There are 20 valid reasons to vote absentee in Virginia, including working and commuting to and from home for 11 or more hours between 6 a.m. and 7 p.m. on Election Day. Check the Virginia Department of Elections list to see if you are eligible (look for the Reason Codes for Voting Absentee section).
There are two ways to vote absentee in Virginia: in-person and by mail. To do either, you should first check your voter registration status to make sure it is up-to-date.

Note: You will need to fill out an absentee application on-site prior to in-person voting. Voting absentee by mail? Consult the mail-in ballot section of this page for more information.

You can apply for an absentee ballot online by accessing your Virginia Voter Record. You will need the following documents to complete this request:

• Social Security Number

• Virginia Driver's License

Your application will be denied if you fail to provide the last four digits of your social security number or any other information required to determine your qualification to vote absentee. For additional information please visit the Virginia Department of Elections or contact the Fairfax County Office of Elections.
In-Person Absentee Voting Locations
If you prefer to vote in-person rather than request an absentee ballot online you may visit one of our in-person voting locations. Please note, however, the following information regarding changes to our schedule due to inclement weather.
INCLEMENT WEATHER INFORMATION
In the event that Fairfax County Government Offices close due to inclement weather, absentee voting will be cancelled. For additional information on operating status, please call the Fairfax County Government Emergency Information Line at 703-817-7771. Information is also available through the County's
website
, Twitter (
www.twitter.com/fairfaxcounty
), and Facebook (
www.facebook.com/fairfaxcounty
).
FAIRFAX COUNTY GOVERNMENT CENTER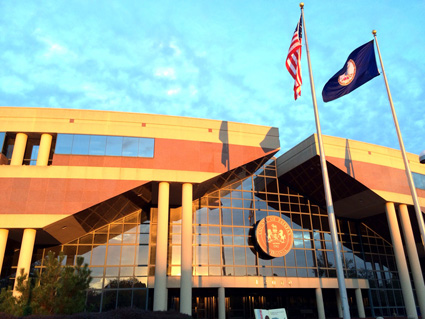 The Fairfax County Government Center is the main absentee voting location for Fairfax County voters. There are currently nine additional voting locations in Fairfax County. Before heading out to vote, however, please ensure the location of your choosing is operating, as the satellite voting locations have fixed hours and/or might not be open depending on the size and scope of the current election.
Absentee voting at the Fairfax County Government Center can be located at:
Fairfax County Government Center, 12000 Government Center Pkwy., Fairfax, VA 22035, Conference Rooms 2/3
Operating hours:
TBD.
SATELITTE VOTING LOCATIONS
The following 9 satellite voting locations may not be available for all elections:
Franconia Governmental Center - 6121 Franconia Rd., Alexandria, 22310
Lorton Library - 9520 Richmond Hwy., Lorton, 22079
Mason Governmental Center - 6507 Columbia Pike., Annandale, 22003
McLean Governmental Center - 1437 Balls Hill Rd., Mclean, 22101
Mount Vernon Governmental Center - 2511 Parkers Ln., Alexandria, 22306
North County Governmental Center - 1801 Cameron Glen Dr., Reston, 20190
Providence Community Center - 3001 Vaden Dr., Fairfax, 22031
Sully Governmental Center - 4900 Stonecroft Blvd., Chantilly, 20151
West Springfield Governmental Center - 6140 Rolling Rd., Springfield, 22152
Operating hours:
TBD.
Absentee Voting by Mail
Important note if you are voting absentee by mail using the United States Postal Service (USPS):
The USPS has changed its delivery standards and First Class mail delivery is now two to five days. Standard delivery is now two to nine days. Please take this into consideration and allow ample time to apply for and mail-in your absentee ballot so that it is delivered to the Office of Elections by Election Day at 7:00 pm.
To track the status of your mail-in absentee ballot application and ballot, go to Ballot Scout or view your Virginia Voter Record for voter-related information.
The deadline to apply for an absentee ballot online, by mail, by fax, or by email is 7 days prior to Election Day by 5:00 pm.
What you need to do:
You can apply for your absentee ballot online.
Or
Print, complete, and sign the absentee ballot application (PDF). Absentee ballot applications are also available for in-person visits at county governmental centers such as the Government Center as well as Fairfax County library branches.
Send the completed application to us using one of the following methods:

Scan then email the application to absenteeballot@fairfaxcounty.gov
Mail the application to the Office of Elections at Box 10161, Fairfax, VA 22038
Fax the application to the Office of Elections at 703-324-3725

Once your completed application is received and accepted, your absentee ballot will be sent to you within three business days. If you have questions about your ballot, call the Office of Elections at 703-222-0776 (TTY 711).
The deadline to return your absentee ballot to the Office of Elections is Election Day at 7:00 pm.